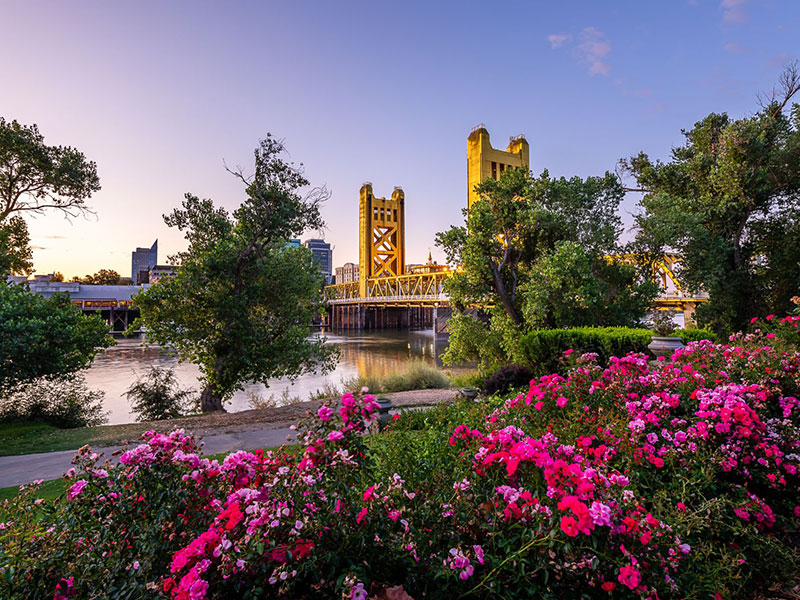 Welcome to Greater Sacramento Area
Gorgeous California countryside with something for everyone
Lying in the Central Valley and flanked by the Sierra Nevada Mountains, the Greater Sacramento Area consists of seven counties in northern California, namely Sacramento, Placer, El Dorado, Yolo, Yuba, Sutter, and Nevada counties. Straddling diverse cultural influences of the Bay Area, Eastern California, and North California, the Greater Sacramento Area has become a hotspot for commuters seeking huge bang for their buck in an attractive place with great amenities and the quintessential California lifestyle.
Served by a vast freeway system as well as the largest rail hub west of the Mississippi River, its central location to the Bay Area and Nevada border makes Greater Sacramento a major transportation hub in Northern California. Locals revel in the beauty spawned by its mountainous terrain, lakes, lush parks, and numerous ski and nature resorts.
The Greater Sacramento Area is endowed with a perfect Mediterranean climate and is one of the world's most important agricultural areas. Innovators have flocked here for revolutionized agriculture tech, and wine connoisseurs have experienced great flavors in its vineyards. In a mix of Spanish-style estates and mid-century modern beauties, homeowners are sure to find the perfect property to suit their taste.
What to Love
An eclectic mix of neighborhoods with quiet, tree-lined streets
Freshwater rivers, mountains, and lakes
A job market on a steady incline
Plenty of  sites to explore
Affordable housing
Great schools and universities
Local Lifestyle
Greater Sacramento is loved for its beautiful climate, remarkably affordable housing, and the promising job market. The region's highly reputed schools prepare students for a successful higher education and even more fulfilling careers. With the sheer number of wineries sprinkled around, you won't have to visit Napa Valley for the perfect taste of wine. Tour museums and art centers, or spend your days exploring the bountiful recreational opportunities around. An enriched quality lifestyle awaits in Greater Sacramento, whether you want to live, work, or play!
Dining, Entertainment & Shopping
The Greater Sacramento Area exhibits a mother lode of upscale shopping malls, gourmet restaurants, and sophisticated entertainment venues to spoil any foodie, shopper, or bon vivant! From the sprawling 
DOCO
 in Sacramento to 
Woodland Gateway
 in Yolo County, there is something for everyone in this area.
Plop down on a cushioned seat with your partner for a lunch date at 
Canon's
, where you can order grilled octopus and corn fritters served with a cocktail or wine. The restaurant's chocolate cake is a must-try if you're looking to dig into some dessert.
Want your dining experience in a high-end, Michelin-starred restaurant? Look no further than 
The Kitchen
, serving an eight-course fixed-price menu of American dinners in a wonderfully lit, open-kitchen setting. New American and French cuisine are taken to the next level in the elegant, contemporary 
Ella Dining Room & Bar
, and if you want great California rolls, teriyaki chicken, and tempura green beans, you'll have a swell time at 
Mikuni Sushi
.
Things to Do
Dozens of vendors, chefs, and festival goers come together to celebrate the bounty sourced from farmlands at Sacramento's famous 
Farm-to-Fork Festival
, which spills across downtown and into nearby side streets. Not only locals but thousands of visitors flock to the area to sample locally sourced produce including cheese, wine, and olive oil. With live musical performances, cooking demonstrations, a kids zone, and plenty of food and wine to go around, this festival is the ultimate foodie event of the summer!
Come cheer on the Sacramento Kings at 
Golden 1 Center
 (formerly King's Arena), and take a tour of the historic riverfront 
Old Town Sacramento
 flecked with Gold Rush-era buildings, cobblestone streets, and horse-drawn carriages. Perhaps you'd love to spend a part of your afternoon taking excursion train rides at the state 
Railroad Museum
 or swinging by the 
Sacramento History Museum
 for an exciting underground tour or Choose Your Own Gold Rush Tour!
Schools
The Greater Sacramento Area is served by various high-rated school districts, noted for helping students succeed in their chosen careers and higher education institutions of choice. Top academic choices include:


Sorry we are experiencing system issues. Please try again.